[PICS] 120429 Yoo Chun - Rooftop Prince BTS
blaqfaith: Source: Han Ji Min's Facebook
K-BOX: [NEWS] Trial of Avex and C-JeS / FC Men in... →
ohohamark: I. Trial Avex brought up the Hitachinaka concert that happened last October. Zak corporation withdrew from the trial because of bankruptcy so they can't participate and support C-JeS. It's gonna be a long trial. I am keenly aware once again, that it is a tough world. Source: …
JYJ Facebook Update: Studio Photos w/ Jaejoong &...
ohohamark: Credit: JYJ's Official Facebook
JYJ: JYJ's member Kim Jaejoong Encouraged Fans to... →
jyjsoul: "Everyone please remember to participate in the election, and remember to show me proof photos~" This line in Kim Jaejoong's twitter was only a start. This tweet from Jaejoong instigated a lot of participation throughout the election day. On the 11th, fans who accepted Jaejoong's "voting…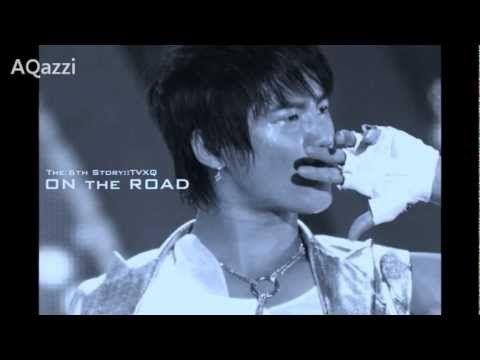 Blaqfaith: [NEWS] JYJ's Yoochun Poses with his... →
blaqfaith: A friendly conversation that took place between JYJ's Park Yoochun and veteran actress Choi Myung Gil drew smiles from netizens everywhere. The actress shared the photo above and tweeted the singer saying, "Yoochun~ 'Fighting' on your new project, 'Attic Prince'! And thanks for the delicious…
Blaqfaith: [INFO] Announcement from Noizu... →
blaqfaith: Translation: It's a shame to hear and read comments that those going to the concert will scream and carry banners of other bands that have nothing to do with the concert the commenters are going to see. I believe that we've come a long way and this is the only thing that could make us…
[PICS] Yoochun in Tsutaya Magazine, February 2012...
blaqfaith: Credit: @babyskymicky Shared by: JYJ3
10 tags
The cruel history of JYJ – Looking Back the year... →
10 tags
JYJ Kim Jaejoong, Enlistment Rumors "The Fact is...
Last October, JYJ Kim Jaejoong had signed up for delayed enlisting with the Military Manpower Association. An official from C-Jes, JYJ's company, has stated in a phone interview "Kim Jaejoong had applied for a deferment of his military enlistment and was granted it from the MMA" International activity and long periods of staying abroad were sited as the reasons for the postponing of...
Korean Idols Updates: [NEWS + FANPROJECTS] JYJ's... →
koreanfreakx: There seems to be a possibility that JYJ will extend the World Tour into Latin America. This possibility was mentioned in at least three articles recently. (T/N: The Korean word used, 남미, literally translates to "South" America but it seems to be common usage in Korea to have the word refer to…
Korean Idols Updates: [TRANS] 111119 Staff on the... →
koreanfreakx: The below is a blog entry by the owner of the Microbus from Elle December issue. :::POST ENTRY::: To be frank, the photos that are above– I posted them on Twitter for a bit, and it was a total mistake. From here and everywhere there were inquiries, and Instantaneously it was ReTweeted…
Anonymous asked: Not only do I like your blog (haha I found it) but I also am OBSESSED with you secretly. Ok here we go.. I got this idea from a Tumblr spam I got once lol.. I think you like me too and you were always too shy to admit it :3 go to crushmatches(dót)com (wtf it wont let me link regular) and make an account there. Then look up the profile 'gottagetme19' (me obviously) I left body...
[TRANS] 111031 What Does The Spanish Media Think...
jyjsoul: The local media of Spain is showing great interest in JYJ's European debut. We asked them questions about what they think of JYJ and K-Pop. At JYJ's interview with the press on the morning of the 29th, the reporters gave JYJ a favorable review. They believe that it is an undeniable fact that the K-pop market will continue to expand, and that Korean singers are winning Europeans'...
JYJ: [TRANS] 111031 Spanish Choreographer Rafa... →
jyjsoul: Rafa Mendez, the choreographer of JYJ's Spanish concert, stated that he is confident that JYJ will succeed in the entire continent of Europe and that he was glad to have worked with them. Right before the 'JYJ European Tour Concert 2011′ performance began at the POBLE ESPANYOL in Barcelona,…
Untitled: JYJ's Jun Su revealed his plans after... →
kpopislab: JYJ's Jun Su revealed his plans after the Europe tour. Jun Su was connected with YTN's News Wide on the 5th and said, "I think I might take a short rest after the tour." "It is called a rest but I will prepare for next year. I couldn't write many songs during Europe tour. I will make…
ItHadtoBeYou: [NEWS] 111104 A chicken gets... →
ithadtobeyouforever: We know there's a ton of JYJ fans out there, but this particular individual takes the cake for being one of the cutest we've seen in a while. An series of photos have gone viral in Korea after they were uploaded onto a community forum under the title, "Part-time Chicken Shop worker is a JYJ…
111105 JYJ Worldwide Concert Press Con in Berlin
usadisney:
Anonymous asked: IM me on Yahoo Msngr it's important. my username is deborahmeliass121398
Answers from a Cassie~
jujukya: Question: Why are you still a fan of DBSK even though they are not as 5 & separated. Answer: That is like asking why do you believe in God when you have never seen him before? It's because I have faith. With the little facts and little things, I cant help but believe that will come back together.  
Yoochun said he's not afraid of getting older...
jaechnsu: XD
9 tags
Absence Of JYJ In Year-End Awards "A Serious...
The season for year-end music awards is back. Not only will the 3 broadcasters KBS, MBC and SBS be holding their music festivals at the end of December, there are various other music awards and festivals that are being prepared for November. The most serious problem regarding this year's music award ceremonies is whether JYJ (Park Yoochun, Kim Jaejoong, Kim Junsu), the group formed by 3...
9 tags
9 tags
11 tags
Jaejoong on NY Times Square LED Screen!
Info: According to the fan, MTV was flashing scenes from JYJ's acoustic performance on the screen prior to a United Cube feature special.  The fan who took the pictures was waiting in Times Square for a performance of another K-pop artist .  She mentioned she wasnt fast enough to take a screencapture of Yoochun and Junsu. Source: John Egg Facebook + Jessica Malasics Tip: @san_pooh88 Shared...
13 tags
JYJ's Donation of 600 Million KRW Becomes Shelter...
JYJ's Donation of 600 Million KRW to [Alleviate] Japan Earthquake Damage Becomes Shelter for the Victims A Card Created by World Vision Japan as an Expression of Thanks to JYJ A portion of the donation of 600 million KRW (approximately 600,000 USD) that JYJ (Jaejoong, Yoochun and Junsu) has made for the regions damaged by Japan's earthquakes have been used to construct a shelter for the...
15 tags
The Korean Pop Group, JYJ to open "XVII SALÓN DEL...
T/N:  JYJ performance in "XVII SALÓN DEL MANGA" being featured in the main page ofFic Comic The popular South Korean group JYJ (initials of its three members, Junsu, Yuchun and Jaejung) has decided to present his latest album "In Heaven" and to kick off their European Tour in "XVII SALÓN DEL MANGA". The band has chosen Barcelona to present their unique performance in Spain, beginning his tour...
4 tags